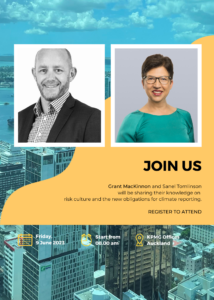 RIMS NZ & PI Chapter in conjunction with KPMG invites to you to attend an event on Risk Culture and Climate Reporting.
Agenda:
Registration and breakfast 08:00-08:30
Climate Reporting 08:30-09:30
Risk Culture 09:30-11:00
Climate Reporting
Sanel Tomlinson – Principal: Impact measurement and reporting
Sanel has over 25 years' experience advising clients across industries and geographies with a particular focus on matters affecting business from a finance and corporate reporting perspective. She currently works with clients on their ESG reporting strategies and in particular implementing the Aotearoa New Zealand Climate Standards. Before re-joining KPMG in New Zealand, she was the Head of Strategy for the External Reporting Board (XRB) and led the initial set up of the Climate Standards project, including  acting as the interim Project Director. Sanel was previously a partner at KPMG in New Zealand and in China. In these roles she advised clients on international financial reporting standards and more recently sustainable/green finance and ESG regulations. Sanel is passionate about inclusion and financial literacy and regularly engages in voluntary and/or not-for-profit initiatives. Sanel was one of the founding members of KPMG China's Inclusion and Diversity Council and in 2019 Sanel was awarded a KPMG China's Chairmen award for services to the community.
Key topics to be covered:
The new regulatory environment for climate reporting in New Zealand
The practical issues that organisations are having to deal with to meet reporting requirements
The implications of the new standards for risk management and governance
The assurance requirements
Risk Culture
Grant MacKinnon, Executive Director of GRM & Associates Pty Limited is an expert on risk culture. He will cover the following topics.
Risk Culture Trends & Recent Lessons Learned (What's in focus for RIMS members/ What we are seeing in Australia and other geographies)
Reframing Risk Culture to Include a Focus on Desired Risk-Taking (How do culture and risk culture affect your organisation's ability to achieve strategic goals?/ How can you get the cultural balance right between risk/compliance and other important organisational outcomes?)
Case Study: Assessing risk culture through the lens of a key risk class (i.e., how does culture affect the performance of key risks?)
Culture Governance (How to better align and utilise culture and risk information across HR, Risk and IA for accountable roles and board directors)
To register: